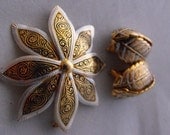 Oh so gilty! Gorgeous never worn earrings, lightly worn floral brooch. Incised in a lovely scrolled Damascene pattern. Gold tone, silvertone with black scrolled design. Earrings are clip. All three pieces are marked "Spain."
Brooch size- 2 - 2 1/8"
Earrings size- 1"
Click Here to Visit My Etsy Shop!